Welcome to Brevard RV Rentals!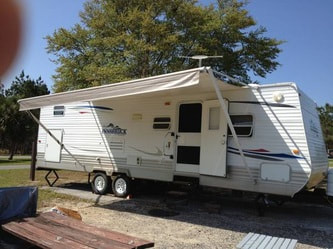 We are a locally owned, operated, licensed, and insured business located along the eastern coast of Central Florida in Brevard County specializing in giving the people the opportunity to experience RVing in Florida. Brevard County (also known as the Space Coast
) has local State Parks, County owned parks, and privately owned parks that offer a large variety of activities that can be experienced and enjoyed all year round, or you may choose to stay at Long Point Park
and Campground or Wickham Park Campground.
During your stay at these parks, you will enjoy swimming, boating, fishing,
sight-seeing, and many other family activities that will be a positive and memorable experience. Florida has beautiful springs
(Click here to view a map of Florida's Springs)
, or you may want visit a new winery in nearby Ft. Pierce
(Endless Summer Winery)
. With our RV's and Travel Trailer, we offer an affordable way to enjoy all that Florida has to offer. Ou
r travel trailers can be towed with a standard full-size truck or SUV and has plenty of room to sleep up to 8 people. If you do not have a suitable tow vehicle, you can enjoy the Florida camping experience with our Delivery & Setup service (additional fee). This will give you and your family more time to enjoy your camping experience without the worry of towing and the hassle of setting up. You
will save 50% or more compared to other are RV/Travel Trailer rental companies without having to sacrifice quality or service.
We offer more for less! For more great ideas and destinations, visit
www.howtodoflorida.com
or
National Park Service
.
Depending on your level of adventure, we can recommend a place suited to meet or exceed your expectations.
There are plenty
amazing destinations in Florida that you are sure to enjoy. Please do not hesitate to contact us for more information....
Email us at:
info@brevardrvrentals.com
or call (321) 960-3169